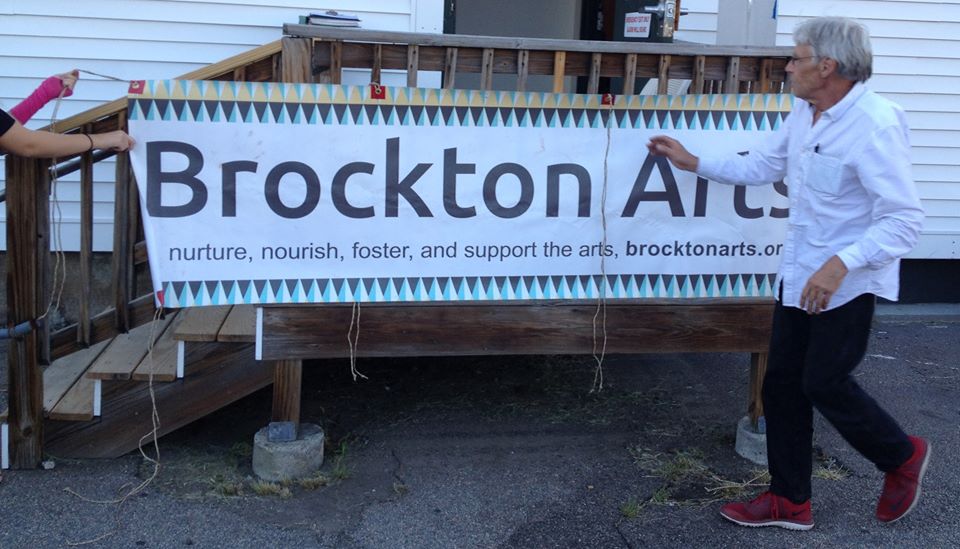 BROCKTON ARTS, INC., exists to nurture, nourish, foster, and support the arts in the Brockton, MA area.
We are a volunteer based arts and culture advocacy and support organization.  Brockton Arts, Inc., is the new business name of Greater Brockton Society for Poetry and the Arts Inc.  We have an engaged, vibrant Board of Directors and a mission tuned to the needs of our communities.  We remain a 501c-3 tax exempt, non-profit educational organization charged with advocating for and promoting Arts and Culture in our communities.
Brockton Arts' origins are in a long running itinerant Poetry Series begun and fostered by local Slam poet Philip Hasouris that stopped for a Poetry Reading in Arnie Danielson's Eclectic Speed Café in Brockton's Campello neighborhood. Collaborations and fundraising initiatives led to the foundation of the Greater Brockton Society for Poetry and the Arts, Inc. (GBSPA) which began offering programming in the Brockton Area in 2001, beginning with our flagship program, the Brockton Poetry Series. This monthly series continues to offer writing workshops and feature locally-, regionally- and nationally- known poets in our local venue.  In 2005 we applied for and received non-profit tax exempt status.  In 2013 we officially changed our name to Brockton Arts Inc.
We have taped 40 episodes of 'The Weave of Words', a 30-minute program on poetry and art that is aired by the Massasoit Community College Cable TV network.
In June of 2009, in April 2010, and again in June 2012 we partnered with the Brockton Library Foundation and the Brockton Historical Society on three 'CITY LIGHTS' events. Broadly based community celebrations at the Brockton Public Library, the first featuring fabulous jazz and industrial/beat inspired art, the second featuring the winners of our regional poetry contest and a wonderful R&B/Jazz septet for dancing, and the third a wonderfully stylish dance party.
Our 'City Lights' events spun off two fashion events as we partnered with local change agents and local small business' to stage 'COSMOS AND COUTURE' high style fashion, design and networking parties in the heart of downtown. The first party was in July of 2010, the second in late January 2011.
In October of 2010 we began a partnership with the Haitian Art Assembly of Massachusetts that has spawned a yearly series of exhibitions showcasing the emotional and artistic response to the devastation of the earthquake that devastated Port au Prince.  In process we have partnered with the city's of Brockton, Boston, and Cambridge, partnered with Leslie University, Massport, Unicef, Boston's Haitian Counsel General, The Wedeman Gallery @ Lasell College, and William James College and their Haitian Mental Health Network.  This long running series of exhibitions has returned in excess of $22000 to our artists and partners in Jacmel, Haiti.   The Jacmel Art Revitalization Project currently supports an Arts Academy in Jacmel that provides arts materials and instruction to 80 children.  A success by any standard, The Jacmel Project is ongoing…
We partnered with the Taunton River Watershed Alliance to present the nationally recognized 'WILD AND SCENIC FILM FESTIVAL' here in downtown Brockton in October 2010, again in November 2011 and again in November 2012.  The Festival was presented in several downtown Brockton venues in part to bring a broader awareness of the importance of our City's waterways and water policy as they relate to our health, well being, and quality of life.
In October 2010 we partnered with Fuller Craft on an NEA BIG READ grant focusing on the work of Emily Dickinson and providing programming and outreach throughout the Brockton area.  Over the course of the multiple events and activities presented we were fortunate to partner with the Brockton Public Library, the Brockton Public Schools, Massasoit TV, Brockton Cable Access, The office of the Mayor, and a number of dedicated local business people to enhance our outreach.  We even participated in Brockton's Holiday Parade.  We had touched tens of thousands of our wonderful city's residents from school children to the elderly, cutting across all demographic lines before we were finished.
In spite of the pending threat of Hurricane Irene in August 2011, we received a great turnout at the DBAM-fest; the first Downtown Brockton Arts and Music Festival held in the Salisbury Brook Park.  Music was provided throughout the day, as local artists exhibited their works and vendors sold their wares. Our second DBAM-fest doubled our first year's attendance and we expanded to use both Salisbury Brook Park and the adjacent Finnegan Park across the Salisbury Brook. The Festival grew and improved each year to include a Juried Art Show with prize money for Best in Show, first, and second runners up and then expanding with partnerships with, and arts presentations in, the Gallery @ Enso Flats, The Stacy Adams Cultural Arts Building, and Brockton Area Transit for 2015's DBAMFest – BAT providing a free shuttle to link the four Festival Sites all day long.  DBAMFEST2016 is planned for the last weekend in August and will be staged in the Stacy Adams Cultural Arts Building @ 33 Dover Street, Brockton and feature music, food, activities, and an indoor vendor's mall from Friday Afternoon until late Sunday evening…
On the first Saturday in August 2012, partnering with documentarian Noube Rateau and cinematographer Aaron Thibeault, we staged our first SHOE CITY SCREENS Film Festival screening documentaries, shorts, comedies and animation @ Joe Angelo's Café downtown.  We expanded in subsequent years partnering with Massasoit Theater to stage the event in the Anna P Buckley Performing Arts Center's Theaters, screening the Deveney brother's 'Noah' with our own Andy Jasmine and Josh Adam's thoughtful documentary 'Cosplayer Nation' among others…
In March 2013, partnering with Royal L'Radin of Derape Productions and Slam Poet Rich Berg we staged our first NIGHT SLAM in the Little Theater of the Buclkley Performing Arts Center @ Massasoit CC.  We are now proudly in our fourth year with an enthusiastic audience and a new host, Barbatt Jocelyn, and a new venue, GALLERY THIRTY THREE in the Stacy Adams Cultural Arts Building.
In August 2015 we moved into our new home in the Stacy Adams Cultural Arts Building @ 33 Dover Street in Brockton, relocating all of our programming and activities to our new Gallery, Event, and Studio space in suites 129 and 130.  GALLERY THIRTY THREE staged its first show on August 29th 2015 – The Jacmel Project Reflection and Celebration – with the Haitian Artists Assembly of Massachusetts.  Our first show was followed by – Three Visions – with the work of Augusta Daluz (Gallery Curator), Marquis Garcia, and Cleivis Alfama. Following 'Three Visions' we presented the work of Joseph Chery, the work of John T Adams, the work of Arnie Danielson (Gallery Manager), Curtis Coughlin, Fritz Ducheine, Jean-Claude Sainte, work from Brockton Arts' collections, and now – Philly Phlavors x Boston Textures – the work of local artist Suzy Q Shaw and and Philadelphia artist Bariq Cobbs.
We are a volunteer-based organization. Our funding has come primarily from private donations and local businesses. In the past we have received grant awards from the Massachusetts Cultural Council and just received notification that we have been awarded another grant for this years DBAMFEST. The benefits of our programming are far-reaching. Through our poetry series, workshops and writing contests we promote literacy and writing skills for people of all age-groups and ethnic backgrounds. Our partnerships with diverse organizations around the city and the region have enhanced our reach, our awareness, and our audience as we continue to participate in the ongoing revitalization and reinvigoration of great city of Brockton.